08
November
ThermoSpa pHin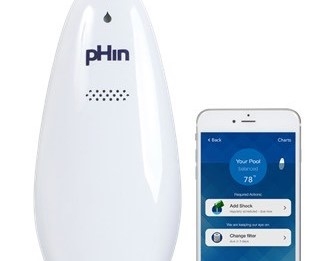 pHin is reinventing hot tub care with a WiFi-enabled smart monitor and a mobile phone app to take away the guesswork. It's the perfect addition to your ThermoSpas hot tub and as easy as Monitor, Notify, Add!
Monitor: measure water chemistry and temperature 24/7
Notify: get smartphone alerts when you need to take action
Add: receive recommendations and add the exact chemicals needed
Keep your water healthy and protect your investment with pHin
pHin's unique chemical monitoring and recommendations engine helps ensure clear, safe water to keep your loved ones protected and make your hot tub equipment last longer.

Benefits and Features:
Flexible: Works with bromine and chlorine hot tubs.
Easy: Compatible with all chemicals.
Remote monitoring: Check your water at any time from anywhere.
Alerts and advice: Get customized and timely notifications.
Always there for you: Measures pH, chlorine, bromine and temperature 24/7. Also tests for total alkalinity, total hardness and cyanuric acid, as needed.
Reliable and accurate: Lab-grade sensors, no moving parts, and no need to charge or replace the battery.
Peace of mind: Smart monitor, wireless bridge, calibration kit, chemical monitoring, recommendations and hardware warranty for 1-year included with purchase price. After that, $99/year covers ongoing monitoring and adjustment recommendations, new replacement monitors in each additional year if any defects occur with any component or the monitor no longer is functioning, and free hardware upgrades. If you prefer not to pay $99/year, pHin will continue to provide temperature and basic alerts when your pH and sanitizer are out of balance as long as your monitor works, but it will no longer give you chemical recommendations.
Product Specifications:
Container size: L 7 3/4" x H 12 1/4" x D 3 1/4"
Container weight: 1.24 lb
Container contents: pHin Smart Monitor, pHin Wifi Bridge, free pHin Mobile Aapp, pHin Calibration Kit, User Manual, Storage Cap, Tether. Chemicals and smartphone are not included.
Smart monitor size: H 10" x L 4.5" x D 1.5"
Smart monitor weight: 0.61 lb
Resource: https://online.thermospas.com