15
March
Why You Should Shower Before You Swim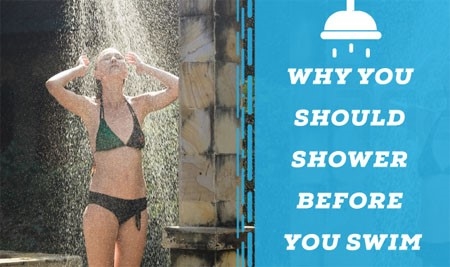 Have you ever seen those signs posted in public pools that say you must shower before entering the pool? Have you ever wondered why many pool owners want you to shower before diving in for a cool dip in the water?
Showering before entering a pool is one of the least practiced habits before swimming in most countries around the world. In many ways it is understandable. After all, you are about to jump into a pool. What is the point of taking a shower first? There are actually several reasons why you should take a shower before entering a pool.
Remove Contaminates from Your Body – Unless you just stepped out of the shower, there is a good chance that your body will have substances on it that will contaminate a pool. These include sweat, soap, perfume, shampoo, deodorant.
While you may not want to admit that there is urine and feces on your body, they could be present in such small amounts that you would never even notice. However, once they come in contact with pool water, they will contaminate the water.
A simple shower with water only can wash these substances from your body so they don't get into the pool water when you go for a swim. This will help the pool remain cleaner for much longer and it will also prevent you are your friends from swimming at crystal clear pool.
Easier on the Pool – The more contaminated the water becomes because of what you introduce to the water, the harder the pool has to work to be sure it is clean. More chlorine has to be added to be sure the water is clean and safe and the pool's pumps and filters will have to work hard to remove these contaminates in the water.
Source: https://www.swimuniversity.com/shower-before-you-swim/