04
January
Winter Pool Maintenance: The Right Way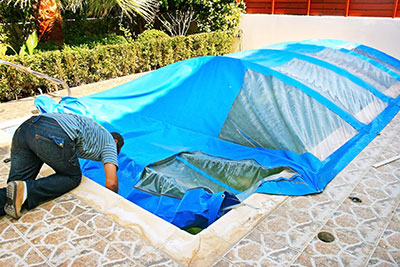 Taking care of your pool now can save you money once it's time to open your pool again in the spring, not to mention preventing any damage due to freezing temperatures or contaminated water.
Pool Covers
In colder areas, pool closing begins immediately after pool season to protect your pool from the harsh conditions. Adding a pool cover is a necessity to protect your pool from snow, debris and animals, so it's important all pool owners understand how to maintain them. Here's how to keep your pool coverin good shape:
First, ensure that your winter pool cover is securely attached to your pool. That can mean for an above ground pool inflating the air pillow, tightening the cable, or securing cover clips. For an inground pool, you need to make sure the water blocks or bags are secured and all your safety components are in place.
Remove debris and water off your pool cover. Use a hose to remove plant debris, such as leaves and twigs, and a vacuum to remove any excess water.
Use a roof rake to pull the snow off your pool cover. The excess weight can cause damage, especially when dealing with above ground pools. It's easiest to remove the snow when it's still fresh, but always make sure to take the proper safety precautions when dealing with snow and ice.
Source: https://www.swimmingpool.com/blog/winter-pool-maintenance/